MH160 Hydraulic Reversible Compactor
Hydraulic Reversible Plate Compactor MH160
The MH160 hydraulic reversible plate compactor is the newest model to be unveiled in the Masalta compactor lineup. The versatile machine can effectively compact sand, gravel, and cohesive soil. The hydraulic adjustment control lever provides responsive directional change. Two eccentric weights work in conjunction to increase the compaction force while smoothing out the transition between forward and reverse travel.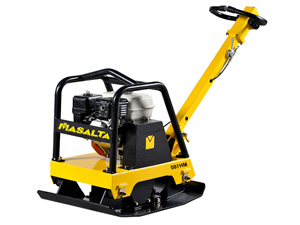 Features
1. The hydraulic reversible plate compactor implements a user friendly design.
2. Flexible handles insulate against vibrations and folds to 45 or 90 degree positions for easy transportation and storage.
3. The durable throttle lever is crafted from high integrity casting aluminum and offers superior comfort.
4. Optimal power is available for both forward and reverse operations.
5. If the travel control lever is released during reversal, the onboard safeguard will automatically revert to slow forward travel.
6. We have installed premium shock absorbers to reduce vibrations and maximize operator comfort.
7. The impact resistant base plate implements an open structural design with self cleaning properties.
8. A sealed belt cover provides protection for both the belt and the clutch.
9. Electric starter is available as an optional add-on for the diesel engine.
10. On-the-spot compaction provides a quick solution for problem areas.
11. The hydraulic reversible plate compactor is ideal for compacting smaller worksites such as narrow trenches.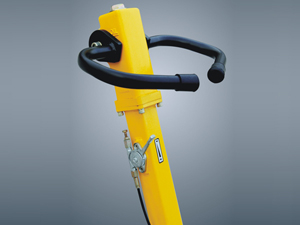 Technical Specifications
Model
MH160-1
MH160-3
MH160-4
MH160-4
Engine Type
Diesel, Kipor 170
Petrol, Robin EX17
Petrol, Honda GX160
Diesel, LombardiniLD350
Power kw (hp)
4.4(6.0)
  4.2(5.7)
  4.0(5.5)
  5.5(7.5)
Operation Mass kg(lbs)
160(343)
  140(309)
  140(309)
  156(344)
Frequency vpm
5400
Centrifugal Force kN
30
Plate Size mm(in)
500x690(20x27)
Dimension mm(in)
1380x550x880 (54x22x35)
We reserve the right to alter or withdraw product specifications without prior notice.
As a professional hydraulic reversible compactor manufacturer and supplier in China, we also provide double drum road roller, cohesive soil tamping rammer, light tower, and scarifying machine, among others.
Related Names: Vibratory Road Compacting Machine | Compaction Equipment