Double Drum Road Roller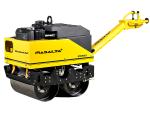 MDR65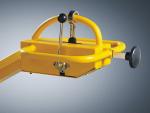 Ergonomically designed handle comes with deadman control and offers reversing p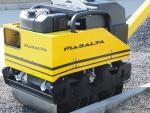 Minimum overhang improves side and curb clearance
Double Drum Vibratory Roller MDR65
The MDR65 double drum roller offers a more efficient alternative to conventional chain and belt driven rollers commonly seen on the current market. The hydraulic driven system utilizes a hydraulic pump and motors to power mechanical movement and generate vibration; it has essentially eliminated the need for regular periodic adjustments.
Features
1. The Deadmam control lever offers reversing protection.
2. A mechanical parking brake restricts unwarranted movements.
3. The multi-position handle is designed for operator comfort and simplifies transport.
4. Built-in oil cooler increases overall productivity.
5. Ergonomically designed controls are conveniently positioned to improve the speed and maneuverability of the double drum roller.
6. Anti vibration controls reduce fatigue and lower HAV (Hand/Arm Vibration) for operators.
7. Minimum overhang enables excellent side and curb clearance, which allow for a close approach to pavements, curbs, walls, and other obstacles.
8. The dual drums are designed with beveled edges to smooth out embellishments on surfaces such as asphalt.
9. Easy access is provided to the front mounted Diesel engine.
10. The rear-mount water tank holds up to 65 liters. It has anti-corrosion properties and reduces noise while keeping dust to a minimum.
11. Vibration is controlled by an easily accessible toggle on the speed regulating hand lever.
12. Two scraper bars on each drum ensure cleanliness, even when working on asphalt.
13. The unique clutch/pump drive system of the double drum roller provides easy cold weather starting and allows for no-load starting.
Technical Specifications
Model
MDR65L
MDR65A
Engine Type
Lombardini 15LD440
 Hatz 1B40
Power Kw(hp)
8.1(11)
7.5(10.2)
Weight Kg(lb)
718(1583)
 721(1590)
Drum Diameter mm(in)
650×Φ404(25.6×Φ16)
Static Linear Force N/cm
54
Centrifugal Force kN
21
Frequency vpm(Hz)
3300(55)
Travel Speed km/h
0-3.6
Water tank Capacity L
65
We reserve the right to alter or withdraw product specifications without prior notice.
As a specialized double drum road roller manufacturer and supplier in China, we also provide hydraulic reversible compactor, power trowel, concrete vibrator, mini concrete mixer, and more.
Related Names: Walk Behind Double Drum Roller | Walk Behind Heavy Roller