MMD (MMDB)Surface Finishing Screed
Vibrating Screed MMD
The MMD (MMDB)surface finishing screed has an oscillation mechanism that enables dual-directional processing. It is capable of precision leveling without the use of guide rails. The machine is ideal for larger worksites and significantly improves leveling and finishing efficiency. Blade vibration improves concrete consolidation while reducing time spent "bull floating" the concrete surface.
Features
1. Hollow section aluminum extrusion is utilized in conjunction with convex profiled sole to craft the blade; it is designed specifically for the pushing and pulling of concrete.
2. Blade angle directly affects forward and backwards movement; it is easily calibrated via the pitch controller.
3. The clip together handle has 3 extension sections and can achieve a maximum reach of 5.4 meters.
4. Working width can be adjusted to 1.5m, 2.0m, 2.5m, or 3.0m.
5. The concrete surface finishing screed is available with a 4 stroke petrol engine and designed to satisfy current market needs.
6. The machine is ergonomically structured to reduce fatigue and labor intensity.
7. The economically priced screed is easy to maintain and transport.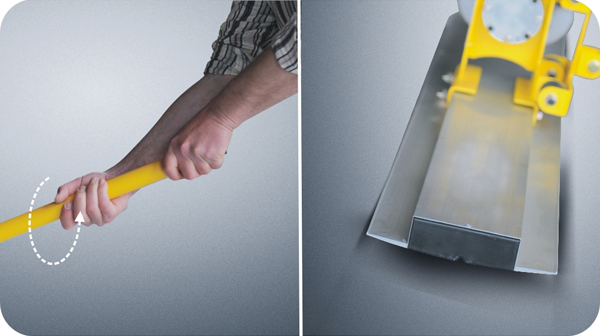 Turning left
Turning the handle to the left makes the blade incline backward, pulling and spreading the concrete.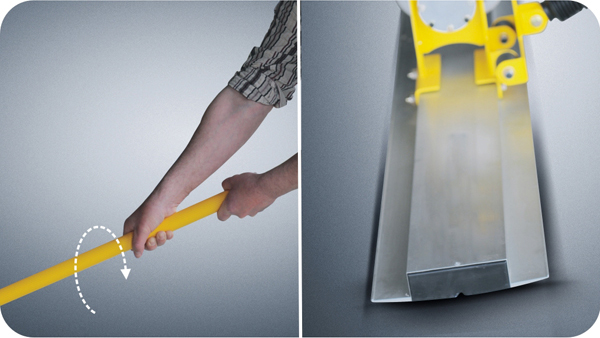 Turning right
Turning the handle to the right makes the blade incline forward, pushing and spreading the concrete.
Technical Specifications
Model 
MMD-2
MMD-3
MMD-4
Engine
Air-cooled, 4-cycle
Engine Type
Chinese Petrol Engine
Robin EH025
Honda GX25
Power Kw (hp)
0.8(1.1)
0.8(1.1)
0.8(1.1)
Weight Kg (lbs)
11(24)
10.5(23)
10(22)
Handle Length M (ft)
1.8(6) to 5.4(18)
1.8(6) to 5.4(18)
1.8(6) to 5.4(18)
Screed Blade Specifications
| | | | | |
| --- | --- | --- | --- | --- |
| Model  | MMDB-1 | MMDB-2 | MMDB-3 | MMDB-4 |
| Length M (ft) | 1.5(5) | 2(6.6) | 2.5(8.2) | 3(9.8) |
| Weight Kg (lbs) | 6.2(13.7) | 8.3(18.3) | 10.3(22.7) | 12.4(27.3) |
We reserve the right to alter or withdraw product specifications without prior notice.
Masalta is a specialized surface finishing screed manufacturer and supplier in China. We offer a broad range of products, including brick saw, hydraulic reversible compactor, concrete finishing trowel, light tower, and more.
Related Names: Vibratory Screed | Motorized Screed